"The 16 kw Generac generator was sized for the house and not over engineered. The plumber and electrician did and excellent job of installing and cleaned the premises very well. The pricing seems to be in-line with other firms. They were very professional." - Donald G. — in Middletown, NJ  |  Review Source: Angie's List  
Generac Guardian 16 kW Generator
The purchase of a Generac generator will give you peace of mind for years to come, but it's a big investment. That is why we want to give you as much information as possible so you can make the right decision based on your needs and budget.  Contact us to so we can help you understand how the entire process works, what your financing options are, and how to choose the right backup power solution.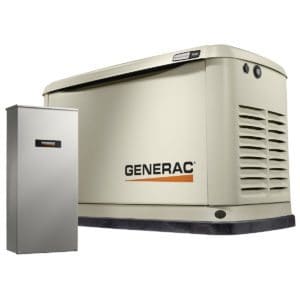 This 16 kW Generac generator provides essential circuit or managed whole house power protection for your home, ensuring the necessities remain powered during an outage or up to whole house coverage when paired with one of Generac's load shedding devices. Capable of backing up two 4-ton or a 5-ton air conditioners.
Additional Information For The Generac 16kW Generator
Powers 16 circuits of your home with the 100-amp, NEMA 3R (indoor or outdoor rated) transfer switch with aluminum enclosure.
Up to whole house protection with the 200-amp, NEMA 3R (aluminum outdoor enclosure) smart switch.
True Power™ Technology delivers best-in-class power quality with less than 5 percent total harmonic distortion for clean, smooth operation of sensitive electronics and appliances.
Generac generators and engines are engineered and built in the USA*.
*Built in the USA using domestic and foreign parts
Generac's G-Force Engine is a purpose-built, pressure-lubricated engine capable of handling the rigors of generator use, resulting in power that's more reliable and requires less routine maintenance than any competitive engine.
24/7/365 Customer Support Team standing by all day, every day from Generac's headquarters in Wisconsin to answer any questions you might have.
Generac's RhinoCoat™ powder-coated finish helps make corrosion-resistant aluminum perfect for all weather conditions.
Generac's Evolution™ Controller features a multilingual LCD display that allows users to monitor battery status and track maintenance intervals to ensure your generator is always in top operating condition.
Mobile Link™ Remote Monitoring allows you to monitor the status of your generator from anywhere in the world using a smartphone, tablet, or PC. Easily access information, such as the current operating status and the generator's maintenance schedule. Connect your account to Green Sun for fast, friendly and convenient assistance. (sold separately)