14 kW Generac Guardian Series Generator
Installed In Pompton Lakes, New Jersey for The DIY Network's Man Caves
Generac Model Number 6241, 14KW LP / 13KW NG 60 AMP Main Breaker With 200 AMP Smart Switch™ (RTSY200A3) for the smart control of up to 2 3-Ton Central Air Conditioning Units, 12 Volt Start Battery, Bisque Fascia Base Trim Kit & 5-Year Warranty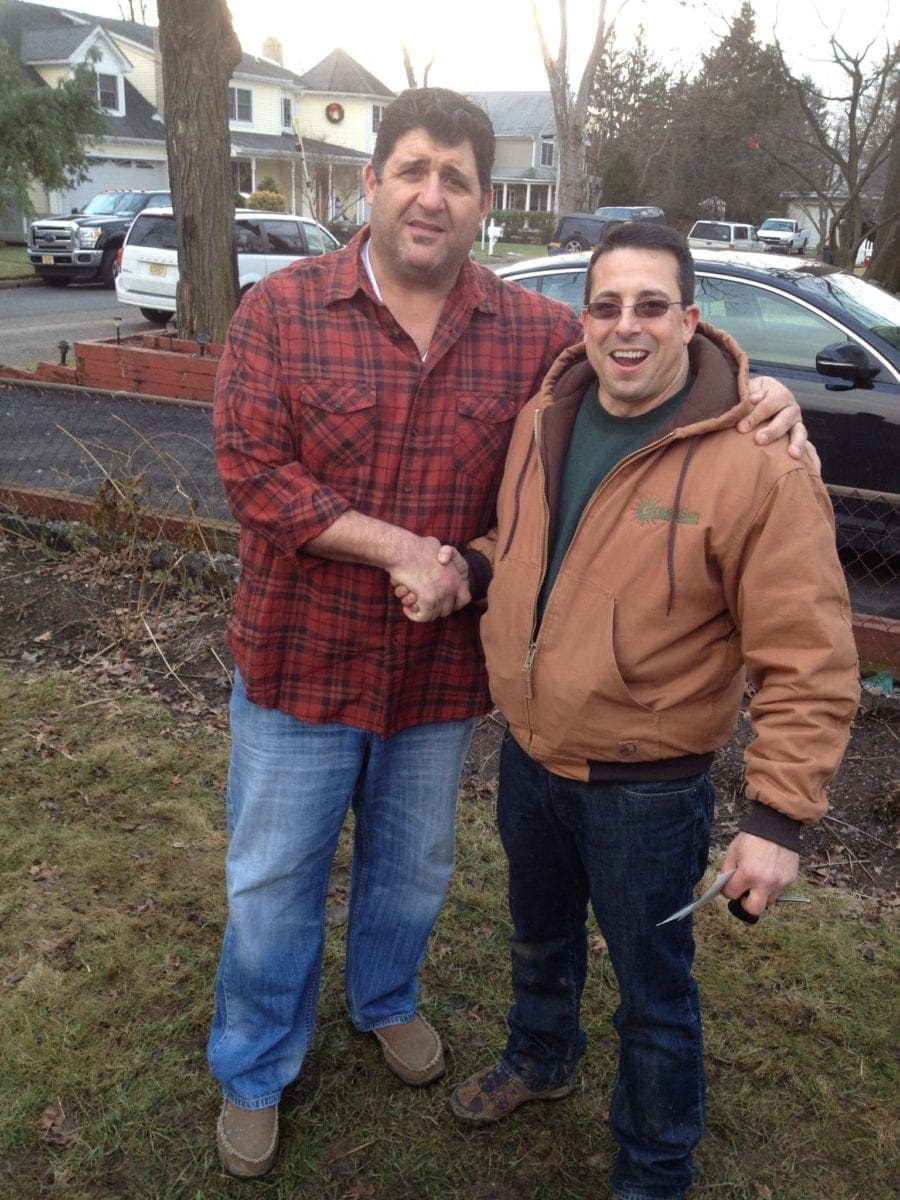 What happens to your man cave when the power goes out? One lucky New Jersey homeowner will never find out. When DIY Network's Man Caves needed emergency power for one of their ultimate man cave projects, they turned to Middletown businessman Glen Koedding and Green Sun Energy Services for help. The Green Sun Energy Services team was featured in an episode titled High Voltage Man Cave, which depicts a basement renovation for a young North Jersey family. The episode first aired on November 14, 2014 at 9 p.m.
We were thrilled when DIY Network reached out to us to help build one of their ultimate man caves, said Green Sun Energy Services co-owner Glen Koedding. Widely recognized as an area leader in home energy solutions, Green Sun Energy Services was called upon to share their expertise in emergency generators for the show. Filming took place over two days in January of 2013.
In the DIY Network series, licensed contractor Jason Cameron and former NFL great Tony "The Goose" Siragusa created a man cave solely for one lucky guy, plus offer ideas and expert do-it-yourself instruction to help homeowners everywhere construct their own personal hangouts.
The Green Sun Energy Services team worked alongside Cameron and Siragusa to bring power and peace of mind to the homeowner, a lineman by trade, who is often called to work during power outages. A standby power generator is a safe and practical way to protect your home and family during an outage, explains Koedding. We can customize a power solution to each homeowners needs, from heating the home and preserving food, to keeping families entertained - even by powering the ultimate man cave.
Green Sun Energy Services was founded in 2010 to bring tailored energy solutions to homeowners and small businesses in New Jersey. The Middletown-based company specializes in custom solar energy programs, emergency power solutions, and energy improvement services.
Generac Generator Solutions In Pompton Lakes, NJ
Stand up to unpredictable weather and unforeseen outages in Pompton Lakes with a new Generac generator, the most trusted name in residential standby power.  Connected to your existing natural gas or LP fuel supply, the standby generator kicks in within seconds of determining power loss–automatically - protecting you and your home 24/7.
A permanently installed Generac generator protects your home automatically. It runs on natural gas or liquid propane (LP) fuel, and sits outside just like a central air conditioning unit. A home backup generator delivers power directly to your home's electrical system, backing up your entire home or just the most essential items. All of our Generac generator solutions provide the following primary benefits:
Automatic Operation
Don't worry about having to be there to start and stop your Generac home backup generator. Because it does that automatically. Whether you're home or away.
No Refueling
Your Generac home backup generator runs on your existing natural gas or LP fuel supply. Save the gas cans for your other outdoor power equipment.
Direct Power
You'll never have to run an extension cord through a window or door again. Your Generac home backup generator safely delivers power right to your home's electrical panel.
Selecting the Right Generator In Pompton Lakes
, NJ
We know a home backup generator is a big investment. Here's what you need to know to make an informed decision about your Generac home backup generator purchase.
How Do I Choose the Right Generator?
Do you best to understand your back up needs (e.g. do I want the whole house on the generator or just certain circuits?).  This will help us properly size the generator with you.  We utilize a custom developed Generator sizing tool that can help you determine the right home backup generator for your unique needs. 
What's Involved in Installing a Home Backup Generator?
Installing a home backup generator is an exciting time. We will process all of your permits, register your new generator with the natural gas company,  prepare the installation site outside your home, place the generator, run the natural gas fuel line, install the transfer switch, and make all of the necessary electrical connections. And they will make sure that your backup generator runs properly, passes all township inspections, and is ready for its first power outage.
How Do I Get A New Generac Generator In Pompton Lakes
, NJ
?
The best way for you to get started is to compete the Generator Estimate Form and we'll call you within 24 hours to discuss your needs.  We can typically provide you with a base price over the phone and set up an free, in-home consultation if you like.