Protect Your Home 24/7 with a New Generac Generator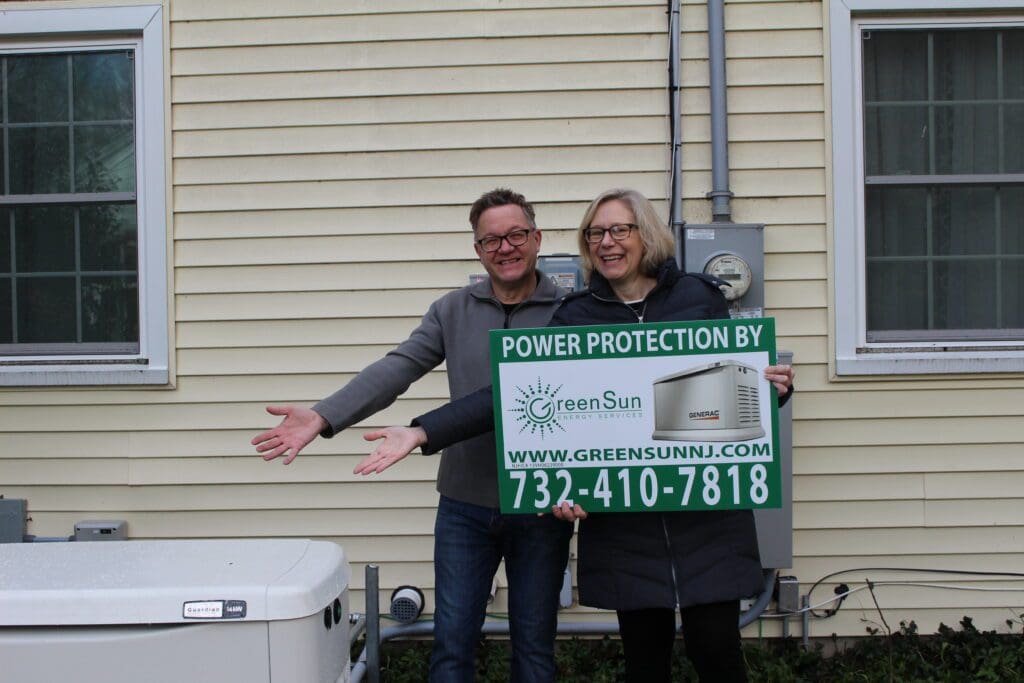 Get the Unbeatable Power of a Generac Generator!
Say goodbye to inconvenient power outages and hello to uninterrupted comfort with a new Generac generator. Within seconds of an outage, your new generator will seamlessly supply power directly to your home or business's electrical circuit breaker box.
Imagine the peace of mind knowing that while others are left in the dark, your home remains fully powered. With Generac, you can enjoy uninterrupted electricity to keep your lights on, appliances running, and crucial systems functioning flawlessly. No more worrying about spoiled food, freezing temperatures, or missing out on important moments.
The best part? Your new Generac generator will do all the work for you. Unlike a portable generator, there's no need to rush to the garage or deal with messy refueling. Your new generator will start and stop automatically, ensuring your home is protected 24/7 without any hassle.
Designed to provide seamless power backup, a Generac generator from Green Sun Energy Services, LLC is the ultimate solution for homeowners who refuse to compromise on comfort and safety. You can trust in Generac's exceptional engineering and years of expertise to keep your home powered, no matter what.
With the broadest product line available, Generac standby generators are available to cover virtually any application:
Essential Circuit Coverage. Generac takes the guesswork out of sizing by offering prepackaged Guardian Series generator systems. The generator is paired with a transfer switch containing a predetermined number of circuits based on the generator's kW power rating. Each circuit is directly connected to a matched circuit on the home's main circuit breaker panel, providing electricity to that specific appliance or area of the home.
Managed Whole House Coverage. You can get more coverage with less generator, up to whole house coverage, by pairing a smaller generator with one of Generac's Nexus™ load shedding switch options. This creates a managed power solution where non-essential circuits are shed when the generator approaches maximum capacity. They are cycled back on when essential circuits no longer require power, so all circuits receive power at different times.
We offer assistance in selecting and installing a new Generac generator, from sizing and selecting, to processing permits and registering with the natural gas company. Our team prepares the installation site, runs the natural gas fuel line, installs the transfer switch, and makes necessary electrical connections. We ensure the backup generator runs properly and passes inspections. Post installation, we offer remote monitoring and annual maintenance with genuine Generac parts is recommended. Financing options are available.
You can purchase an essential circuit generator system for $595 down and less than $100 a month. Financing your Generac generator is easier than ever with flexible programs offered by our financing partners. Don't wait for the next power outage to leave you in the dark! Secure your home's power supply 24/7 with a reliable Generac generator from Green Sun Energy Services, LLC.
The whole process from meeting with Glen who explained the complete process was outstanding. I had met with 2 other contractors before meeting with Glen who had more knowledge on the generator then both of them combined. The installers were very professional,knowledgeable and friendly,would highly recommend the entire Green Sun team. 

- Edward from Middletown, NJ. Generator Installation Review Source: Angie's List
Learn More About Installing A Generac Generator In NJ
An automatic standby generator is a back-up electrical system that operates whether you are home or away. Within seconds of an outage, it automatically supplies power directly to your home's electrical circuit breaker box. After utility power returns, the generator shuts itself off and waits for the next outage. It operates on natural gas or liquid propane gas and sits outside just like a central air conditioning unit. (READ MORE)
---
Looking for reliable generator solutions? Look no further! Green Sun Energy Services has got you covered. Our comprehensive range of services includes generator sales, installation, maintenance, and repairs. Whether you need backup power for your home or business, we have tailored solutions to meet your specific needs. With our expert team and partnership with Generac, you can trust us to provide uninterrupted power supply, protect against outages, and ensure your safety. Don't compromise when it comes to reliable power. (READ MORE)
---
In order to ensure safe and reliable operation, annual maintenance will need to be performed. Regularly maintaining your Generac Generator with genuine Generac parts is key to the performance and reliability you count on when the lights go out. We change the oil and oil filter, change/check and gap the spark plugs, check all functions of the generator, and test to ensure it works properly. (READ MORE)
---
A comprehensive overview of frequently asked questions regarding generators. It covers various aspects such as the purpose and benefits of generators, types of generators available, fuel options, installation process, maintenance requirements, noise levels, and the lifespan of generators. The page aims to address common queries and provide valuable information to individuals seeking to understand generators and their usage better, enabling them to make informed decisions about acquiring and maintaining a generator for their specific needs. (READ MORE)
---
You can purchase a whole-house generator system for $595 down and less than $100 a month. Financing your Generac generator is easier than ever with flexible programs offered by our financing partners. (READ MORE)
Green Sun installed an EV charger in my garage and were awesome to work with! Their team walked me through everything and helped me get my rebates and inspections without issue. Everything works great and I can not recommend them enough!
Great service, quick installation and very attentive.
Great experience end to end. Glen is experienced and thoughtful about the whole thing. And the installer did an excellent job pulling wires and doing a clean job mounting the charger on my garage wall.
I got my ChargePoint Home EVSE today. Green Sun made the whole process super easy. With the rebases they advised me about this thing isn't costing me anything. Highly Recommend Green Sun.
Elizabeth Wulfhorst
2023-09-07
I couldn't be happier with the services Green Sun Energy provides. They did such a great job installing our generator, after getting an electric vehicle I decided to have them install an EV charger in my garage. It's been amazing! And Glen and his team at Green Sun made it so easy. The charger was installed in a perfect location and hardwired to my electric panel. They also made sure I had all the paperwork needed to file for reimbursements with the state and the electric company and I received the full amount allowed under the "make ready" program – $1,500. Now it's a breeze to charge my car!
Glen and his team completed a Genrac generator and Solar System installation. The team did a fantastic job. They are very reliable, walk you through all the details step by step, communicated clearly, and completed the work on time. They will help you through design, permits, inspections, various registrations. They can help with financing and suggest best options. They are in for the long haul and more interested in maintaining a relationship with their customer. Glen walked through the cash flow details of financing a solar system vs leasing to help me make the beat decision. They are also local which helps compared to big name corps. Overall highly recommended
Stephanie Wardius
2023-02-22
Green Sun was excellent to work with in purchasing and installing our Generac. Glen fully explained the entire process, handled the permits, worked with us when I made a last minute change to the plan, and brought in an exceptional installation team. He has remained available with any questions we have had since installation over a year ago, his team monitors and services our Generac, and Glen has been nothing but kind/knowledgeable/helpful. Highly recommend Green Sun and we thank them for ensuring our home stays protected.
Robert Mishlen
2023-01-12
Best experience that I have had with any contractor. Courteous, professional full transparency with no hidden cost. Green Sun is fantastic!!!!!!
I have been with greensun for almost two years now and I have been very happy with their servicers.
Green Sun Energy was awesome!!!! Glen and his team were professional and amazing....I highly recommend them, we're so happy we chose them to install our generator.