Charlotte and I highly recommend Green Sun for your Solar and back-up generator needs. Yes, they delivered what they said, follow-up on every question or need we had but also went further. My wife was not in favor of "unsightly" solar panels but Glen came up with the LG all black panels and moved vents on our roof to allow one perfect square to be set. Green Sun was also able to build a Generac generator into our package and we are still making money. They are family business that provides personalized service. Great Job Glen and Team!
- John and Charlotte S. Little Egg Harbor | Review Source: Facebook 
New Jersey's Ugliest Solar Installations
We have seen so many ugly solar installation in the state of New Jersey, that we decided to start taking pictures and posting them on our website. It's an embarassment to our industry! 
---
We placed this set of pictures at the top of our list because this system was not just ugly, it was a ticking time bomb that already started leaking. The most boring part of solar is flashing (A thin, impervious sheet of material used to prevent water penetration or direct the flow of water), but its critical to the long term viability of the system. Cheap (and in this case - cheap and damaged) mounting systems will only lead to problems later in the life of the system. In this case, the flashing was also improperly installed through out the entire system. 
To maintain the warranty of the roof and the ability of the flashing to actually stop water infiltration, the flashing needs to be installed up/under the third course of shingles. To save time (or perhaps because of insufficient training), this installer didn't even go past the first course of shingles. No wonder the roof was leaking! Save a penny now, pay a dollar later. This poor homeowner probably got what they paid for.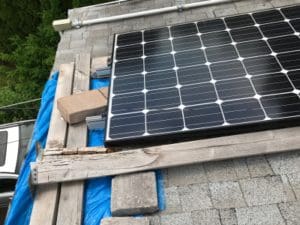 Springfield, New Jersey
This poor guy had his solar system installed on a roof that was too old to support solar...  But the installer never told him. 
The installer used cheap rails without any flashing to protect against leaks (code violation).  We hate rail based systems --- but these guys never bothered to cut the rails to within 4 inches of the panels (code violation).  They ran exposed wire over the ridgeline of the roof (code violation) and oversized the over current protection (code violation)....
Why do we know so much about this installation?  We were hired to fix it...  Just click here to see the before and after photos!  
Colts Neck, New Jersey
Is this a solar installation or did someone want to add a third story to their house? 
What can we possible say about this installation? This is a $ million $ house in COLTS NECK. Do you really need solar this bad?
Freehold, New Jersey
As much as we enjoy poking fun at the "solar butchers" from Utah and California, this house has quickly become one of my favorite ugly solar installations! 
So, I'm driving down the highway and see this house out of the corner of my eye... as I start to get closer, I can't contain my excitement... this bugger is U-G-L-Y! I was so tempted to knock on the door to ask who did the work but I chickened out...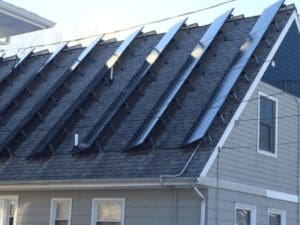 Toms River, New Jersey
Look, up on the roof... 
Is it a bird? 
Is it a plane? 
No, it's a super crazy solar installation. 
ENJOY!
Wall, New Jersey
WOW, That is some design 
There can only be one explanation - DRUGS! 
I guess all it takes is one little hit of acid... and the creative juices start flowing. 
The moral of the story is don't do drugs while you are designing a solar project. 
Kids, don't do drugs or you'll grow up thinking that this looks good!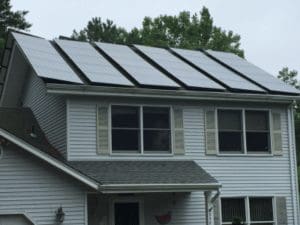 Wall, New Jersey
To make a long story short, a NJ building inspector found our solar hall of shame while he was searching the internet for examples of bad installations to share with his team. 
He actually called me up and told me to drive by this address because he saw one that was worthy of our wall. YIKES! If you think the front is bad you should see the back of the house. I just couldn't get a good picture from the street... YIKES! Some company Eco-something did the installation. Beware of CRAZY designs!
Monmouth County, New Jersey
Careful design, premium equipment, and trained installation personnel are required for an attractive and long-lasting solar installation. It appears that all of these were missing from this solar installation. 
As you can see, there is a tarp on the roof to keep the water from pouring into the homeowner's house. Installing so close to a roof valley and not using proper flashing materials is a great way to guarantee a leak. While aesthetics are important (which is also missing from this installation - nice silver frames), engineering, materials and skilled labor are critical.
Holmdel, New Jersey
Amateur hour continues in Holmdel New Jersey with this unsightly solar installation on a $2 million home (yes, we looked them up on Zillow)!
In addition to the bargain basement solar panels, take a look at the GAP for the missing solar panel (it's too small to fit a solar panel). Is this amateur hour... or did the installer just forget his tape measure?
Bound Brook, New Jersey
*Beware of orange lawn signs* Perhaps these guys should go back to selling alarm systems. 
How about moving a vent pipe or two? Or hiring a guy who knows how to use a tape measure. Its not that hard to get the two arrays to line up? Wake up Mr. and Mrs. homeowner. You should fight back if someone does this to your house! 
Oh, by-the-way, you could have saved 2x more a year if you purchased your system for $0 down instead of leasing it.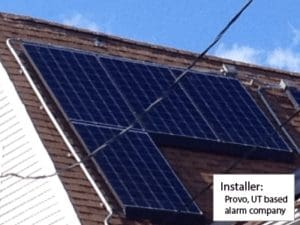 Iselin, New Jersey
Another solar lease gone terribly wrongfor this unfortunate homeowner. A solar lease can be an good alternative to purchasing solar. But, aesthetic design and quality installation still matters. 
In this case, none of that seems to matter to this Provo, UT based alarm company that is scaring people's homes through our state! 
Take a look at the left corner of the array, you will notice that its about a foot lower than the right corner. The ability to use a tape measure should be a prerequisite on their job application. 
We still can't understand why any installer has to run conduit on the roof. It's not that much harder to run it in the attic!
Glen Gardner, New Jersey
Let's start from the top and work our way down. First, the top panels extend past the ridge line.... but it doesn't stop there... 
Notice that the panels start to change color right at the midpoint of the roof --- that's because they are totally different solar panels! Yikes! 
Now how about that work of art along the wall... love all of those centralized inverters --- the technology hasn't changed much since the 1970's and they are still ugly. 
But wait, there's more ---- This is a preschool with kid's toys lined up right next to the inverters. that's smart!
Freehold, New Jersey
Almost ran off the road again! 
This is great example of how NOT to install solar. We really have to wonder why a homeowner would allow this to happen...
Did they just want the cheapest system possible??? 
Did the solar installer just take advantage of the client? 
WAKE UP New Jersey... don't let this happen to you!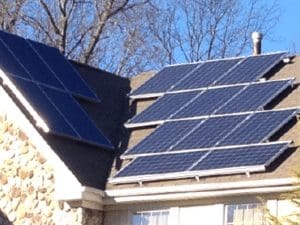 Freehold, New Jersey
Silver Bells... makes for nice holiday song. Silver frames on solar panels... makes for one UGLY solar installation in Freehold NJ. 
For a few extra dollars more (like $5.00 a solar panel) get black frams! 
Especially if it's the front of your house.
Piscataway, New Jersey
wRECk-It Ralph has nothing on these guys! 
Without naming them directly, they really know how to 'REC' a 'Solar' installation. 
Why would the homeowner let you install solar panels like that??? 
And, why did you need to run conduit all over their roof??? 
This might be okay for installations back home in San Luis Obispo, CA but NOT in New Jersey!
You get what you pay for!
Red Bank, New Jersey
Sometimes a picture is worth 1000 words! 
Once again... You get what you pay for!
Princeton, New Jersey
Property value prior to this "FREE SOLAR" installation: Over $1 Million. Property value after this devastatingly ugly solar installation, You decide! 
Hello Solar INSTALLERS and Leasing Companies: Please, Please, PLEASE invest some time in design! Spend a little extra money to install the conduit INSIDE of the house!!! As a Home Owner, you have the right to review and approve the design of your system before it gets installed. Don't let folks get away with this!
Howell, New Jersey
Our site survey lead climbed up the roof of a new client when he saw this in the back yard. Good thing for his safety harness, because he almost fell over! 
Who was did the construction approval when this was installed???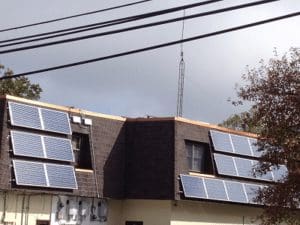 Middletown, New Jersey
I was driving to get my flu shot when I saw this installation and I nearly ran off the road. 
To my very pleasant surprise this work of art is on the headquarters building of a large NJ Solar Installer.... 
Well, at least they have solar... but I wouldn't advise them to bring any of their potential clients over to see it... YIKES!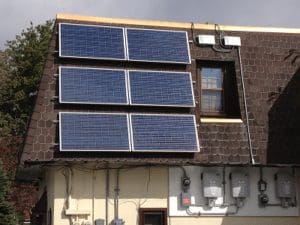 Middletown, New Jersey (Part 2)
I know I'm bad ---- but I just can't help myself... You really need to see a close up of this installation... 
... Okay, I'll stop --- I know it's not professional
Brick, New Jersey
We saw this beauty while leaving a client's house in Brick NJ. This masterpiece backs up against a private lagoon in Brick, NJ... 
How would you feel about waking up one morning to admire the view outside of your bedroom window only to see this? 
I wonder if this beauty has affected the real estate value in the neighborhood?
Middletown, New Jersey
We were driving down route 36 when we saw this installation at a traffic light. The panels seems to be installed evenly and level, but there are conduit runs all over the roof and down the side of the house. 
There really is no need for all of that conduit. Saving a few dollars on the installation isn't worth it!
Freehold, New Jersey
We discovered this house on the way to a client installation. We just can not imagine how the poor homeowner let the installer get away with this. 
The vent pipes on this house should have been relocated and the solar panels should not be hanging over the edge of the house. If you look very closely, you will also see that the conduit runs along the roof. It's not that hard to keep all of the wiring in the attic! 
We were able to look up this installation in the NJCEP database, and it was completed by one of the largest solar installers in the State. Bigger may not always be better.
Piscataway, New Jersey
This Utah-based alarm company turned solar leasing company used the same Zep Solar equipment that we use... But that's about where the similarities end! 
What is going on with the electrical combiner boxes on the roof? And look at all of that conduit running across the roof. Worse than the look of the conduit, can you see what it is mounted to? This leasing company actually used pieces of 2x4 to mount the conduit to the roof. 
I guess this is the price that you pay for FREE solar (gone very wrong).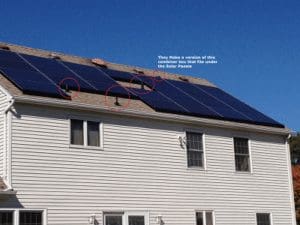 Piscataway, New Jersey
Another Utah-based alarm company's solar installation gone wrong... same good solar panels and racking system... but they are using standard centralized inverters - cheap old technology. 
Come on guys, move the client's vent pipes --- and the installation will look and perform so much better because you will have less shade from the vent pipes casting a shadow on your solar panels.
Piscataway, New Jersey
How do you go about explaining this to the homeowner... 
Perhaps the conversation went something like this... I know we said that we could fit all of these solar panels on your house... But we didn't actually have a design before we showed up. 
Then again, we hired some day workers from the train station down the street --- but they didn't really know how to read a tape measure... so we are off a little bit on the top row. I bet that was the problem! 
I hope that you don't mind having a solar panel dangling 2 feet over the side of your house.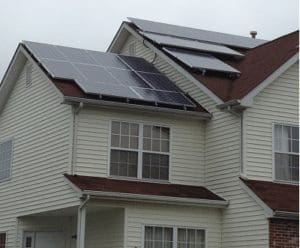 Lawrenceville, New Jersey
There is absolutely nothing positive to say about this installation which is located about 200 yards away from one of our client. 
We can not imagine how this mid-tier installer got away with what they did to this poor family. If you look closely, you will see that they actually overlapped the solar panels. 
Hello BUILDING INSPECTOR? Did you look at this installation when you went out to inspect it? The rails and footings cannot be structurally sound. 
The solar panels on the lower roof are a mess too. Even though they look straight --- they are too close to the wall of the main structure. That whole row of panels isn't getting any Sun. It's just a waste of money!
Colts Neck, New Jersey
Sometimes you just have to say NO... NO... NO --- I will not put solar on your house! 
Why did this solar installer take this job? There are absolutely no redeeming qualities about this installation. 
There a so many other ways to install solar. Perhaps a solar canopy or solar awning?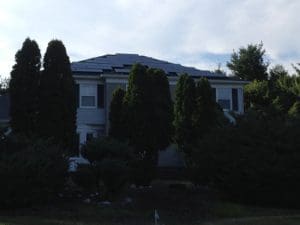 Holmdel, New Jersey
How many solar panels can they stick onto the front of a house? 
Was this one of those "free solar" deals? Did anyone approve the design before the installer started? 
Regardless of who you select for your solar installation and ongoing management, please be sure to review and approve the solar design before they start work!
East Brunswick, New Jersey
Is that a ZIPPER on the roof? 
We saw this on the drive over to a client --- there were about a dozen really bad installations in a fairly new development in East Brunswick. 
Once again, we are amazed that a client would approve this design --- especially for on the front of their house.
East Brunswick, New Jersey
How hard did you try to space out the solar panels like that??? 
This was in the same development as the Zipper Installation in East Brunswick. 
With just a little time and not much effort the installer really could have made this solar installation look nice 
Question: Did you even have a design in mind before you sent the crew out there to do the installation?
Scotch Plains, New Jersey
Sometimes luck just plays right into your hands... and all you can do is embrace it! 
The poor family who owns the house on the right side of this picture may have thought that their new PV solar system was great... Then, they came home from work and saw our PV solar system on the left of the picture. 
They weren't shy about asking us what happened to the three vent pipes and of the ugly conduit on the roof. Our foreman explained that we relocate vent pipes whenever its possible and we don't need to run conduit on the roof because we use specialized roof decks to allow us to run the wires inside. 
Lesson learned: Shop Local and get a MUCH better installation.
Contact Green Sun Energy Services if you DO NOT want your solar to turn up in our Solar Hall of Shame!